We're Ready!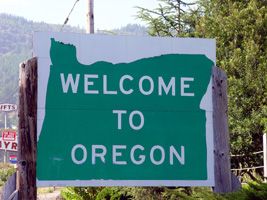 Sue & I are ready to make our first trip to the West Coast and spend 9 days letterboxing with Deanne & Dave!
Our bags are packed and we have 10 new Pinecone Productions that we're bringing along with us to leave in OR. Watch for clues when we return. We leave early Friday morning and return late on the following Saturday. Our sons are minding the store while we're gone -
how many parties do you think they'll plan in our absence????
From preliminary plans, it looks like a whirlwind trip but we'll have a special porcine guide with us - Funhog. The four of us, with Hog in tow, will have an opportunity to visit the high desert that the Funhog spoke so eloquently about in
the interview we did together a while back
. Joining us for some desert boxing will be Don & Gwen, those lovable silverbacks from CA.
On Friday evening, we are being feted with a meet and greet at the location of DMS'
Spirit of Dartmoor box
. What a wonderful opportunity to meet some good friends with whom we've corresponded with over the years and never met like Ryan Carpenter, Atlas Quest tycoon. Plus we'll get a chance to make some new friends with those we don't know! And to finally meet Mitch Klink, Der Mad Stamper, who gave us an
exclusive interview
on his return back to letterboxing a year and a half ago. He's been raising hell since and we're excited to talk letterboxing with him!
I will try to sneak a few posts from OR when Sue isn't looking on Dave's laptop that he's bringing along. Wish you could all come with us! Who knows - maybe we'll organize a trip to OR someday! Let's get back from OR and to Dartmoor in September 2007 first!!!
Be good to each other while we're gone. Hopefully we'll have a few reports from the road. If not, we promise our usual trip report with tons of pictures and commentary like we've done in the past. Have a great week!
posted by Mark and Sue at Wednesday, May 31, 2006