A Great Year & The People We've Met!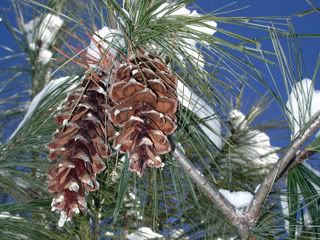 As we pause in this break between the holidays and face
our third anniversary of this website on Thursday
, Sue & I cannot think of a better year than 2005!
It was another year on the move!
Beginning with the 3 Winter Boxing Drives early in the year, to our trip to Michigan and the Great Lakes Gathering in June, to our Bermuda cruise in July, to the Flamingo Caper in October and ending with that unforgettable, epic Mystery Gathering in Rhode Island in November. Phew - what a year!
It's unbelievable to think back on where this hobby has taken us. And the wonderful strangers we've met who quickly became friends; whether those friendships are made at gatherings or via email communications.
For us, it's the people we meet along the way that makes this journey so terrific
. The boxes and places in which they are put are important but without that personal element - a handshake or a hug - this hobby would not have the allure that it does. The complex personalities that make up this game of ours are really the attraction for Sue & I.
Old friends like Deanne & Dave, Jay Drew, Seth, Alafair and TeamGreenDragon, Phyto & Isoceles, Koyote, that wonderful Hog from the left coast, Butterfly, Sadie & Russ, RTRW, Rubuduc and all of our CT friends, MayEve and Uneksia who help me on the Newboxers Talk List, and all of those in between.
Also special to us are the new friendships we made like the girls from the Cape and those in that great state of MI: SpringChick, Old Shoe, Azobox, Doglvrs, Tiptoe & Tonto, Team Rabbit, TJ Mich & family, Leapin' Lizards, Linda Fay, Armadillo Jo and others who put up with our Marco Peperini ringmaster posts weeks prior to our bringing Boch's Circus to their gathering! They all made us feel so welcomed in a strange land.
And developing friendships like the one with Rae Record and Tom Cooch are important as well. Another growing friendship is that with Susan Davis, who with her husband Erik, we regard as the true originators of this game that is so much in our blood. Who better to turn for advice and counsel than Susan as this hobby experiences growing pains?
To prepare for the future, you must know the past - both the success and failures
that Susan & Erik faced in those exciting and formative years. And how could we forget Poison Ivy and Lady Prisspot - a pair with whom we've collaborated with over the years to mischief-make but finally met in person at the Mystery Gathering. Oh the friendships we've made!
And, of course,
without that personal element like yourself, there would be no website!
We could post all day long but without readers like you, they would just be words drifting aimlessly in cyberspace. Thanks to each and every one of you that visit this blog, send us a word of encouragement or a suggestion. These communications are vital to this site remaining fresh and new. Please never hesitate to drop us a line. There have been some great ideas that have come from our dedicated readers and friends.
As we face the new year, we see another busy year on the horizon. We are so excited about our trip out west to visit OR - home of the Hog, the desert, the Columbia River gorge and the creative boxers located there. Sue & I are thrilled to spend time with Funhog and to finally meet Mitch Klink, Der Mad Stamper, another boxing pioneer, as well as others too numerous to mention. And we know that traveling west with Deanne & Dave will hold more than a few exciting times and many laughs - Psssshhhhhh!
In mid January, we expect to have our interview with Carol Stearns, Leader of the Pack, ready for posting. Others who have agreed to be interviewed for our series are Susan Davis, Don & Gwen and Daniel Servatius. For those of you who send emails suggesting future interviewees - thanks for your input. Eventually we hope to get to those names you've suggested.
Sue & I look back at the
16th of June in 2002 as a turning point in our lives
. Besides Sue hitting a milestone birthday(!) it's the first day we ever letterboxed. We often wonder where we would be had we decided to try another activity!
We know our lives would be missing a key element that makes this such a special hobby - those new friends we've made along the way and the wonderful places we've been.
In closing, we'd like to thank all of you who encourage us during the year for our efforts here, those that email us, our friends who have been so supportive and those of you who plant boxes for the letterboxing community to find.
Sue & I wish you and yours a Happy New Year filled with peace, health, happiness and the best, most box-filled year yet!
We're heading off for some quiet time on Friday for a week or so and hope to come back renewed, refreshed and ready for some mischief. Sue & I, along with others, have
some awfully exciting stuff planned for 2006 so stay tuned! And thanks!
posted by Mark and Sue at Tuesday, December 27, 2005